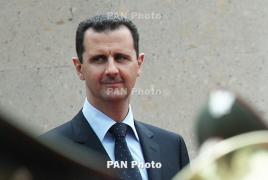 May 31, 2018 - 17:03 AMT
PanARMENIAN.Net - Syrian President Bashar al-Assad said that "without external interference it won't take more than a year to settle the situation in Syria," speaking during an interview with RT in Damascus on Tuesday, May 29.
The Syrian president said the end of the conflict was getting closer, but that a gap between the goals of the Syrian government and its foreign opponents – "mainly the West led by the United States and their puppets in Europe and in our region" – had to be closed.
"I think we are succeeding in that regard, but at the same time, it's difficult for anyone to tell you when. But it is getting closer, that's self-evident," Assad said.
Calling war "the worst choice," Assad said that the use of force at times was the only choice that could be made. "Especially when you talk about factions like Al Qaida, like ISIS, like al-Nusra, and the like-minded factions."
"I think the best choice is to make reconciliation. This is our plan. But when it doesn't work, the only method to resort to is the force," Assad said.