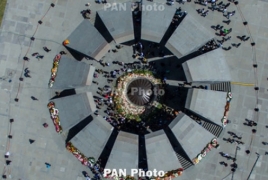 June 4, 2018 - 14:58 AMT
PanARMENIAN.Net - The Israeli government has postponed the discussion of three bills to recognize the Armenian Genocide by the Ottoman Empire, the forerunner of modern Turkey, Haaretz reports, citing officials familiar with the matter.
The bills were scheduled to be debated by the Ministerial Committee for Legislation on Sunday, June 3, but it is not clear when they will voted on, said sources on the committee.
Prime Minister Benjamin Netanyahu postponed the committee's discussion of the proposed laws until after the Turkish general election scheduled for June 24, said officials. Israeli officials recommended not raising the issue of the Armenian genocide before the elections for parliament and president because it would serve Turkish President Recep Tayyip Erdogan in his reelection campaign and help him unite Turkey behind his party.
Last week, Knesset Speaker Yuli Edelstein postponed a debate and vote on recognizing the Armenian Genocide by the Ottoman Empire, the forerunner of modern Turkey, because a majority of the Knesset would not have voted to support the recognition. Two weeks ago, the Knesset approved a request by the left-wing Meretz party to hold a Knesset debate and a vote on the issue.
Israel partially recognizes the Armenian Genocide: The Knesset Education Committee has recognized it and debated bills on the issue, and the Knesset has been marking the Armenian Genocide every year since 2012, but proposals of the sort are usually blocked because of the special relationship with Azerbaijan, which is involved in an ongoing military conflict with neighboring Armenia, as well as the effect it would have on Israel's tense relations with Turkey.