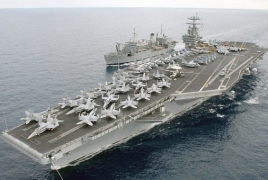 June 12, 2018 - 10:21 AMT
PanARMENIAN.Net - The US Navy's airborne strike group, led by the nuclear-powered aircraft carrier U.S.S. Harry S. Truman, entered the eastern Mediterranean region last Sunday, June 10 to again take part in the operation against the Islamic State (IS) militants in both Syria and Iraq, the official website of the Navy said, according to Al-Masdar News.
"To support air strikes, an aircraft strike group led by Harry S. Truman returned to fight IS. This sends a powerful signal to our partners that we are committed to maintaining peace and security in the region and everywhere that there is a threat of terrorism," Rear Admiral Eugene Black stated in a message on the website.
Previously, the American media, Defense News in particular, reported that the aircraft carrier and other ships accompanying it could stay in the Mediterranean for a long time to counter the "challenges" from Russia and the PRC, but the Pentagon did not confirm such information.
The U.S.S. Harry S. Truman was the ship that carried out the U.S.' attack against the Syrian government.