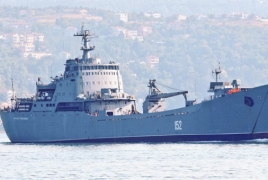 June 15, 2018 - 18:20 AMT
PanARMENIAN.Net - Another Russian ship was spotted traveling through Turkish territorial waters to deliver more military equipment to the Syrian Arab Army (SAA), Al-Masdar News says.
According to Yoruk Isik of the Bosphorous Observer, the Russian BSF Tapir (NATO:Alligator) class LST Nikolai Filchenkov 152 was seen traveling through the Bosphorous Strait en route for the Port of Tartous.
During the trip, the Russian ship briefly encountered the Turkish Coast Guard near the Bosphorous Strait before continuing its route to Tartous.
This latest shipment marks the fourth time this year that this ship has delivered military supplies to the Port of Tartous.