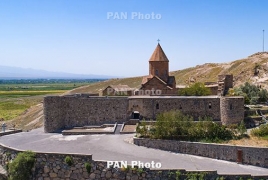 July 9, 2018 - 13:24 AMT
PanARMENIAN.Net - With over 4,000 churches and monasteries, some of which are UNESCO World Heritage Sites, Armenia is variously described as the 'cradle of Christianity' and the 'land of churches', LiveMint.com says in a fresh article.
Kolkata-based photographer and writer Sugato Mukherjee learned from their homeland was the first country to adopt Christianity as the state religion in 301 AD.
"They described visions of Armenia's churches that became imprinted in my mind. Visions of sprawling, majestic complexes, nestled in the folds of green canyons and hilltops, that have borne testimony to the creative power of one of the world's oldest civilizations," the author says.
"I was surprised to discover apostolic complexes that have been immaculately preserved. Their beauty is quite unlike that of the Christian churches I've seen across Europe, that have ornate frescoes and heavily decorated interiors. The churches I saw in Armenia had unique motifs like stone lions and khachkars, intricately carved stone slabs with exquisite motifs. I encountered numerous legends, the most interesting perhaps being that of the Geghard monastery, where the Holy Lance with which Jesus Christ is said to have been pierced was found; or of the Khor Virap monastery near the Turko-Armenian border, where Saint Gregory, the patron saint of Armenia, was imprisoned in a dungeon for 13 years. Visitors can go down to the dungeon from where the saint convinced the king holding him to adopt Christianity and became his religious mentor.
"These churches and monasteries that bear references to biblical incidents and early Christian history are an integral part of modern Armenia, despite 70 years of Soviet rule (which ended in 1991). Visitors can still witness traditional wedding ceremonies in the semi darkness of these 1,000-year-old structures, resonant with the mellifluous notes of the duduk, an ancient woodwind instrument that remains one of the symbols of Armenian identity.
Khor Virap monastery, located close to Armenia's border with Turkey, is the country's most important and most visited religious site, the article says. In was here, at the foothill of the biblical Mount Ararat, that Saint Gregory was imprisoned in a dungeon below the main chapel for 13 years, and where the process of Armenia becoming a Christian nation began.
The travel writer was most impressed by the ruins of the Zvartnots cathedral, Haghartsin and Sevanavank monasteries.