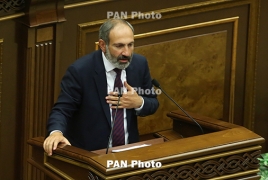 July 10, 2018 - 18:47 AMT
PanARMENIAN.Net - Prime Minister of Armenia Nikol Pashinyan has said in an interview with Russian journalist and blogger Alexei Romanov that before thinking about raising the salaries of officials, you need to raise those of the Armenian citizens first.
Asked whether the Prime Minister has a high salary, Pashinyan replied: "Yes, according to Armenian standards, it's big."
Weighing in on the salaries of the staff of the Prime Minister's office and his team, Pashinyan said they do not make a lot of money.
"First we need to raise the budget revenues, and then think about it (raising the salaries of the Premier's team - Ed.)," he said.
"I believe we should first think about the salaries of the citizens of Armenia, and only then about ours."
Pashinyan did not hide the amount he makes each month: "A little more than $2000."
In the course of the interview, the Russian journalist toured the house of the prime minister, went to the gym with him and visited his office.