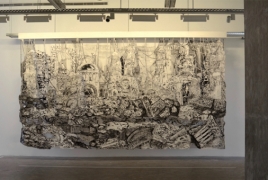 July 12, 2018 - 14:01 AMT
PanARMENIAN.Net - US-based, Syrian-born Armenian artist Kevork Mourad's "The Space Between" is currently on show at Beirut's Galerie Tanit, Hyperallergic reports.
The works on paper — bold, intricate black acrylic against white ground — date from 2013, and are unified by their technique, in which paint is squeezed and smeared over paper, then layered with sections of monotype prints. Each is a testament to Mourad's preoccupation with interstitial space, inspired by his reflections on states of exile.
"I was thinking for a very long time what happens in the in-between spaces, when you're forced to leave your home and you're going to destinations unknown to you," the US-based, Syrian-born Armenian artist says. "This is the place: no man's land, you don't belong there."
Most of these paintings are anchored by phantasmagorical cityscapes, an exilic vision of an elegant, eerie urban world. Although the artist does not use religious symbols, his architecture takes in a broad sweep of faiths.
Although Mourad mentions hope in his artist statement, he notes that this hope is located not in his sombre, dramatic works but, rather, in those who choose to see them. "My hope is that people have to change something after all this," he says. "In a way, I put 50 percent into the work and 50 percent I try to plant in the viewer."