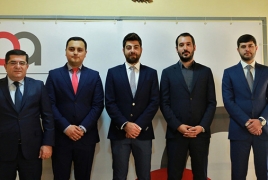 July 20, 2018 - 13:12 AMT
PanARMENIAN.Net - Business Armenia on Friday, July 20 signed a Memorandum of Understanding with ARGA-Eurosteel on the investment of $850,000 and the construction of a new factory for the production of equipment from stainless steel.
The document was signed by the Business support team leader at Business Armenia Hayk Mirzoyan and ARGA-Eurosteel CEO Garen Salkhanian. According to the MOU, Business Armenia is to support the company in investment and export processes.
The construction of the factory building has started in October 2017 and is expected to be over in the next few months. The facility in Kotayk promise will employ 24 people.
"For the next stage of investments, which will be supported by the Government, the machinery and raw materials will be imported. We expect the factory to start operating within a few months and start producing industrial furnaces and other equipment for bakeries and kitchens. The company will offer design, production, installation and maintenance services," said CEO of Business Armenia, Armen Avak Avakian.
"Currently, Armenian hotels, restaurants, cafes, schools and business centers import that equipment, but our company will soon offer an opportunity to use locally made machinery," Salkhanian said.
"Saltek – the company behind the new factory in Armenia - has over 40 years of experience, with its production now available in more than 90 countries in the world. Saltek is establishing the factory in collaboration with the Giro Stainless Steel company. As a future export destination the company views the Russian, Ukrainian, Georgian and Iranian markets," said Mirzoyan.