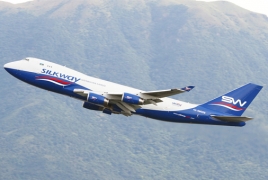 August 23, 2018 - 16:27 AMT
PanARMENIAN.Net - A cargo airline owned by a company with past ties to Azerbaijan's ruling Aliyev family won some lucrative contracts from the U.S. military, according to documents obtained in 2016 through Freedom of Information Act (FOIA) requests filed in the U.S. by a reporter for the Organized Crime and Corruption Reporting Project (OCCRP).
In late 2005, as the war in Afghanistan was in its fourth year, the U.S. government began contracting with the carrier, Silk Way Airlines, to transport ammunition and other non-lethal materials to U.S.-trained Afghan forces and the International Security Assistance Force (ISAF) in the country.
Silk Way participated in contracts worth more than $400 million with the U.S. Defense Department's Transportation Command for more than a decade, thanks in part to a $420-million loan guarantee from the U.S. Export-Import Bank to enable it to buy three 747-8 freighter airplanes from Boeing.
The airline has had its share of controversy. Last July, the Bulgarian website Trud posted leaked correspondence between Azerbaijan and Bulgaria showing that Silk Way had used at least 350 flights with diplomatic clearance to surreptitiously transport "hundreds of tons of weapons" to war zones in the Middle East and elsewhere between 2014 and 2017.
Nevertheless, Boeing appears unfazed, and Silk Way's business with the U.S. aviation giant continued to grow, with the Azerbaijanis signing a $1 billion deal with the company in April 2017 for 10 new 737 MAX passenger planes. This newer deal does not involve any U.S. guarantees, and it is unclear how it is being financed.
Last October, airline officials announced that Silk Way planned to buy two more 747-8 Freighter airplanes. Again, no financing details were provided. Silk Way officials did not respond to reporters' requests for comment; nor did the Boeing Corporation want to shed light on the matter. "We don't discuss the contractual terms of any of our customers," said Boeing spokeswoman Elena Alexandrova.
Neither the loan guarantee nor the full extent of the Pentagon's relationship with Silk Way Airlines, which goes back to 2005 and continues today, have been previously reported.
Silk Way's fleet is growing, and while these revelations may raise a few eyebrows, it seems that the sky truly is the limit.