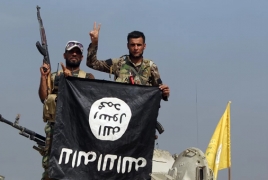 August 30, 2018 - 15:01 AMT
PanARMENIAN.Net - The Islamic State (IS) is on the verge of defeat in southern Syria after a string of losses to the Syrian Arab Army and their allies this week, Al-Masdar news reports.
According to a military source in Damascus, the Syrian Arab Army has tightened the siege on the Islamic State forces at the Al-Safa Mountain, leaving them virtually nowhere to retreat.
The source said that the Syrian Arab Army liberated the following areas on Wednesday, August 29: Saad Hateel, Huwi Awad, Wadi Halaweh, Ghader Al-Sous, Huwi Raseen, Tal Daras , and Khirbat Awad.
Making matters worse for the militant group is that the Islamic State is trapped on a large volcano, which has no resources to replenish their dwindling provisions.
IS lost their main water source on Tuesday, when the Syrian Arab Army liberated the Saad Hateel area.
It is just a matter of time now before the Islamic State finally gives up the battle in east Sweida, as they continue to lose more territory each day.