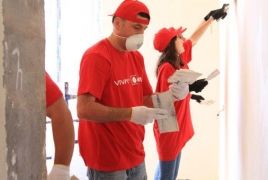 September 13, 2018 - 11:11 AMT
PanARMENIAN.Net - VivaCell-MTS and Fuller Center for Housing Armenia are building one more house in rural Armenia. Under an agreement signed earlier in spring, a joint housing project is currently underway, with volunteering staff members involved in construction works.
Building homes has become a beautiful tradition for the partnering sides. This time, the team of volunteers has been in the village of Zarinja in Aragatsotn province participating in the construction of a house belonging to Atoyan family.
Four years ago, the Atoyans tried to solve the housing problem, but could afford to; the lack of financial means made them accept the situation and find a temporary solution instead.
Aram had purchased a half-built house, but was unable to finish construction,so the family had to live with Aram's parents and his brother's family in one place.
"In all those places, where we take part in the construction works, I look for change in the moods of the families. Why, you may ask? Because the most important purpose of the program is to have people's despair replaced with confidence in the future. The burden of housing problem is so heavy that people are often quite reserved even in expressing their joy and excitement. I am sure the perspective of the coming day is not vague anymore for this young family. I believe it is equally important that the program implemented together with our partner makes people in the regions feel at the center of our attention, and lets them solve the seemingly insolvable problems in a dignified way," VivaCell-MTS General Manager Ralph Yirikian said.
"Our aim is to create simple, decent environment and to improve the family's quality of life. It's obvious that by building a home for Aram's family we will also ease the burden of his parents' family and that is a double success," said Fuller Center for Housing Armenia President Ashot Yeghiazaryan.