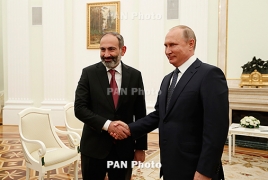 September 21, 2018 - 14:05 AMT
PanARMENIAN.Net - As Armenia is celebrating the 27th anniversary of its independence on Friday, September 21, Prime Minister Nikol Pashinyan has been receiving congratulatory messages all day.
On Friday, September 21, Armenians throughout the world are celebrating the 27th anniversary of Armenia's independence.
In his message, Russian President Vladimir Putin said relations between the two countries are based on good traditions of friendship, mutual respect and spiritual closeness.
"I am confident that with joint efforts we will be able to ensure the future development of allied relations and multilateral cooperation, as well as partnership in the sidelines of Eurasian integration processes," Putin said.
"This is undoubtedly in the interests of the peoples of Russian and Armenia and is for the benefit of the strengthening of regional security and stability."
Queen Elizabeth, in a message of her own said she reflects on the close historic ties between Armenia and the UK, and look forward to the ongoing friendship and cooperation.
Chinese Prime Minister Li Keqiang said, in turn, that the Armenian-Chinese friendly cooperation has been steadily and dynamically developing owing to joint efforts.
He added that the Chinese side appreciates Armenia's role as a partner country in implementing the One Belt, One Road Initiative.
Also among the heads of state sending a message to Pashinyan was Artsakh (Nagorno Karabakh) President Bako Sahakyan.
"Our nation has gone a complicated and challenging way in building a free, independent statehood, facing many trials, having irreversible losses, unimaginable deprivations," Sahakyan said.
"But it has always believed in the triumph of his struggle, believing in the triumph of those dreams cherished for centuries."
As reported earlier, U.S. President Donald Trump said in his message that he peaceful, popular movement led by now Prime Minister Pashinyan ushered in a new era in Armenia.
With a unanimous national vote 27 years ago, the third Republic of Armenia was born on September 21, 1991, to give the Armenian people the right to build their future, be the masters of their land and regain statehood.