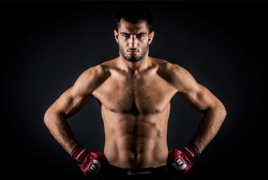 October 1, 2018 - 11:48 AMT
PanARMENIAN.Net - Gegard Mousasi didn't give Rory MacDonald much of a chance in their Bellator superfight. Mousasi, the middleweight champion, met MacDonald, the welterweight champion, in the Bellator 206 main event Saturday night in a highly-anticipated clash. The event took place at SAP Center in San Jose, Bloody Elbow says.
Mousasi, an Armenian living in the Netherlands, found his groove as soon as the five-round title fight started, landing jab after jab, plus a few leg kicks. MacDonald, visibly undersized, struggled to find his range — something rather uncommon for the Canadian. MacDonald scored a few shots in the first round, but few compared to his opponent.
In the second round, MacDonald attempted a takedown — specifically an Imanari roll — but ended up on his back with Mousasi on top of him. The 185-pound champ advanced position, eventually ending up in full mount. Mousasi began raining down ground-and-pound, and MacDonald tried his hardest to get up, but Mousasi's control was too much. MacDonald, bloodied, was forced to cover up, and that was that.
Mousasi said in his post-fight interview he thinks rising contender Rafael Lovato Jr., an ace on the ground, deserves the next title shot. Lovato Jr. is coming off a submission win over John Salter earlier this month.
Mousasi also said he'd like to rematch Lyoto Machida, who beat Mousasi in the UFC in 2014, next year.
Mousasi became a Bellator MMA champion after making quick work of Rafael Carvalho in their middleweight title fight at Bellator 200 May 2018.