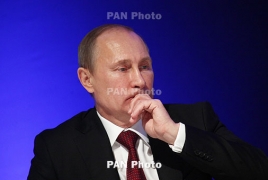 October 4, 2018 - 12:40 AMT
PanARMENIAN.Net - Russian President Vladimir Putin stated that a deal with Turkey to set up a demilitarised zone in Syria's Idlib province is being successfully implemented and that large-scale military involvement is not foreseen in the area in the near future. He made the statement at a joint press conference with Austrian Chancellor Sebastian Kurz in St. Petersburg on Wednesday, October 3.
Putin said: "During the negotiations, an idea came up to set up a demilitarised zone, which will be 15-20 kilometres (10-12 miles) deep, in order to ensure greater security for Syrian civilian facilities, cities, towns and our military base in Khmeimim."
According to the Russian leader, the Turkey-Russia deal calls for the removal of all members of Syrian radical groups and heavy weapons from the Idlib demilitarised zone.
Commenting on the provision of humanitarian aid to the Syrian population, the Russian President said: "I don't know how Europe will act in regard to the provision of assistance to the Syrian population; however, I think that this work should be depoliticised."
He added that "the population of Syria cannot be divided depending on the territory they live in."
Gazprom CEO Alexei Miller and Austrian Mineral Oil Administration (OMV) CEO Rainer Seele signed a basic agreement on the sale of assets following talks between Putin and Kurz.