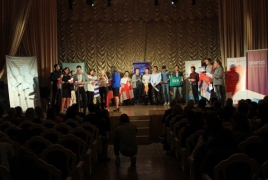 October 25, 2018 - 16:43 AMT
PanARMENIAN.Net - The final stage of the 13th Annual Microelectronics Olympiad took place at the Synopsys Armenia Education Department (SAED) in Armenia. This year too, the Olympiad attracted participants from all over the world: 38 contestants represented 18 countries - Argentina, Armenia, Belarus, Brazil, Egypt, Georgia, Germany, Iran, Jordan, Russia, Saudi Arabia, Serbia, Thailand, Ukraine, Uruguay, UAE, US, Vietnam.
The winners of the 13th Annual International Microelectronics Olympiad of Armenia were awarded with prizes at the special awarding ceremony held at the Concert Hall after Arno Babajanyan.
The winner of the first prize is Grubor Milos Srpsko from Serbia. Ye Ding from Germany took the second prize. The third prize went to Fabian Torres from Uruguay.
The Olympiad founded in 2006 under the high patronage of the Prime Minister of Armenia aims to demonstrate recognition and appreciation, and inspire talented engineers under 30. The Olympiad plays an important role in microelectronics education and stimulates further development of this sphere in Armenia and in the participating countries. It increases the interest in microelectronics, creating a community of young specialists of microelectronics, as well as helping to evaluate the level of knowledge of participants in order to make necessary adjustments in the regional educational programs.
The first stage of the Olympiad hosted 342 competitors from 22 countries: Argentina, Armenia, Brazil, Belarus, Ecuador, Colombia, Egypt, Costa Rica, Georgia, Germany, Iran, Jordan, Philippines, Russia, Saudi Arabia, Serbia, Thailand, UAE, Ukraine, Uruguay, US, Vietnam. 88 out of the 342 contestants in the first stage represented Armenia.
"The future belongs to the generation that values science. The success of the young people that have chosen this path contributes to the economic development of the country. A unique platform of competition has been created for the young individuals arriving from various corners of the world. Let me make one more important observation: meetings like this one are more than just competitions. I am sure that the smart and educated young people communicating with each other will create a bridge of collaboration between the states in future. VivaCell-MTS is proud of the partnership, which is based on healthy competition of creative minds," said Ralph Yirikian, General Manager of the Olympiad's general partner VivaCell-MTS.
This year, too, Olympiad topics included Digital IC Design and Test, Analog and Mixed-Signal IC Design and Test, Semiconductor Devices and Technology, and Mathematic and Algorithmic Issues of Electronic Design Automation (EDA).
For the seventh year, the Olympiad is held in cooperation with the Institute of Electrical and Electronics Engineers (IEEE) Test Technology Technical Council (TTTC).
The general organizer of the Olympiad is "Synopsys Armenia". VivaCell-MTS is the general partner of the Olympiad. The general sponsor of the Olympiad is Unicomp CJSC. Other sponsors of the Olympiad are UEICT, Viasphere Technopark, "INGO ARMENIA" ICJSC.