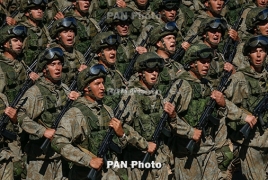 October 26, 2018 - 10:25 AMT
PanARMENIAN.Net - The Russian military police and a UN mission have conducted their first joint patrol of the Golan Heights region at the Israeli-Syrian border, Deputy Commander of the Russian Forces in Syria Lt. Gen. Sergei Kuralenko has told reporters, according to TASS.
"The Russian military police has long been patrolling the entire demilitarized zone, but the joint patrol [of the territory] to the south of the Quneitra crossing took place for the first time today," he told reporters on Thursday evening. "Today, the Russian military police ensures the safety of the UN team on the mission."
"In the future, we plan to carry out a joint patrolling mission directly to the southernmost end of the demilitarized zone," Kuralenko said.
On October 15, a ceremony to hoist the Syrian national flag was held on the Syrian side of the Quneitra crossing, separating the Syrian and Israeli forces at the Golan Heights. The conditions for the Syrian side to resume operations of the border crossing emerged after the government forces regained control over the southern areas and the UN peacekeepers returned to the line of separation with Israel.