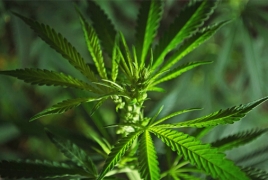 November 1, 2018 - 18:45 AMT
PanARMENIAN.Net - From November 1, doctors in the UK will be able to prescribe cannabis-derived medicine on the NHS, the daily Star says.
Cannabis is still a drug which is banned in the UK, but last month Home Secretary Sajid Javid announced rules would be relaxed about prescribing cannabis products to patients in Britain.
The move comes after a number of high-profile cases where cannabis oil has been used to ease symptoms of epilepsy in children, such as Alfie Dingley and Billy Caldwell.
Cannabis oil, or CBD, is a substance which has been extracted from the cannabis plant by steam distillation.
This low concentration form of the drug is widely available in British pharmacies.
But for the first time in UK history, doctors can prescribe medicinal cannabis containing cannabis, cannabis resin or cannabinol.
Cannabidiol (CBD) is one of the main ingredients in medical marijuana.
It is different to tetrahydrocannabinol (THC), which is the substance that makes people high.
The substance is used in cannabis oil, and can be used to promote sleep, boost appetite and reduce stress, anxiety and depression.
It is also said to benefit those with mental health problems, epilepsy, Alzheimers, eczema and psoriasis.
Sativew is one of the few cannabis-containing medicines which will be prescribed on the NHS.
This can be used to relieve the pain of muscle spasms for those suffering from multiple sclerosis.