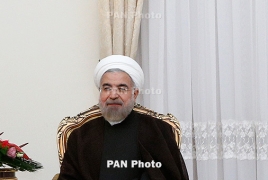 November 5, 2018 - 14:14 AMT
PanARMENIAN.Net - Iran's President Hassan Rouhani has said that heads of four big states at UN General Assembly tried to persuade him for talks with the US President Donald Trump, but he has argued that any talk would be contingent on the other side's commitment to his own promises, IRNA reports.
Speaking at a meeting with deputies and directors of Ministry of Finance on Monday, November 5, Rouhani said: "We don't have any problem with talks, provided that the other side of dialogue attaches value to his own promises."
Trump pulled the US out of the nuclear deal that Washington and other major world powers signed with Iran in 2015. He has also pressed the European allies for stopping business with Iran; a demand that received opposition of the Europeans.
The US has become "ever isolated, as you can see how few countries are now supporting the US acts", Rouhani said.
"We have gained political and legal achievements, and have won public opinion," the Iranian president said, adding that "when the US insists on something but the entire European Union resists it, this means diplomatic and foreign policy victory for Iran."
The European allies of the US are also wishing that the office of the current US administration become increasingly shorter, Rouhani said, adding that his European counterparts have told him.