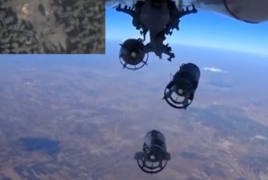 November 8, 2018 - 13:09 AMT
PanARMENIAN.Net - The Russian Special Forces have arrived in southern Syria this week to advise the Syrian Arab Army (SAA) troops currently combating the Islamic State group, Al-Masdar News cited a military source as saying.
According to the source in Sweida city, the Russian Special Forces were deployed to the Al-Safa front where they will be embedded with the Syrian troops that are currently on the offensive against the Daesh terrorists.
The source continued that some Russian military personnel were already in the Al-Safa region before the arrival of the Special Forces; however, most were deployed in northern Syria before the move to the Al-Sweida province.
Similar to their roles during the SAA's offensives in Deir ez-Zor and Palmyra, the Russian Special Forces will advise the government troops on the ground, while also providing Daesh coordinates to the Russian Aerospace Forces.
The Russian Special Forces reportedly arrived with the Syrian Arab Army's elite 42nd Brigade (Ghiath Forces) of the 4th Division; they were both in northern Syria prior to the deployment.