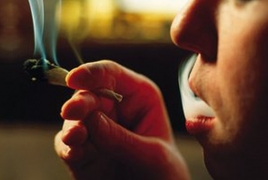 November 23, 2018 - 17:47 AMT
PanARMENIAN.Net - Marijuana has always had a reputation for being a "gateway drug," meaning it's not addictive itself, but it could lead to the use of other addictive drugs. However, new research suggests it may actually have the opposite effect.
A recent PsyPost article discussed a new study in the Journal of Psychopharmacology that suggests the marijuana extract cannabidiol (CBD) inhibits the will to consume methamphetamine in rats.
The results suggest CBD could one day be used to fight addiction to psychostimulants, but it has to be used in higher doses. The researchers found that 80 mg/kg of CBD worked, but not smaller doses of 40 or 20 mg/kg.
An interesting note is that the CBD didn't inhibit the consumption of sucrose, which suggests the effects are targeted.