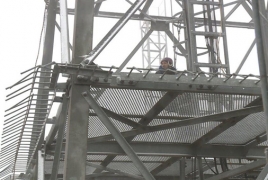 December 4, 2018 - 14:24 AMT
PanARMENIAN.Net - VivaCell-MTS is currently implementing wide-scale work aimed at modernization of its network in various regions of Armenia.
The comoany said the modernization is vital to provide quality services, boost development of the sphere and keep the pace with the global advancements in this sphere.
Employees, suppliers and contractors of the company work coordinated according to a previously scheduled timeline and responsibilities. The aim is clear: to perform the works in a way as to both provide the best service to subscribers and to minimize the possible incoveniences at the same time. To reduce the number of temporary deterioration of service the teams work starts at dawn independent of weather conditions, and the locations of the base stations are oftentimes complicated in terms of geographic accessibility.
One of the stations is 1500 meters above the sea level. The station is located in Lori region, in the village of Gogavan, bordering Georgia. The task requires responsibility, and equally professionalism, devotion, consistentcy and commitment. To get anticipated results effort are required to deliver the task in the shortest period of time.
"We have defined strategies from the very onset of the company, which include continuous development of the network. I can say that we have succeeded in introducing innovative technologies, shaping healthy competition and also maintaining leading positions. The wide scale works to roll out a new network and to modernize the existing one are part and parcel of that process. I will take this opportunity to thank the team for the work. And I would like to inform our dear subscrbiers that these efforts are made to develop the industry. I am proud to state our country is one of the world leaders in the sphere," VivaCell-MTS General Manager Ralph Yirikian said.
The telecommunications operator said it is committed to continuously informing the public on the progress of the modernization works as an expression of respect and responsibility towards subscribers.