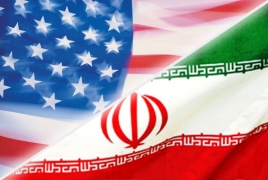 December 5, 2018 - 17:26 AMT
PanARMENIAN.Net - The spokesman of the Iranian foreign ministry says that the United States is trying to prevent Iranian economic cooperation by setting up headquarters and groups in different parts of the world, especially in neighboring countries, but "Iran is simply passing through this period with careful management and systematic leadership."
Bahram Qasemi told a conference of managers, editors and heads of centers and offices of IRNA that 'It's not that we can't pass the situation or are captured of the US measures. They will be regretful sooner or later; we have many facilities that can easily pass through this period by careful and systematic management.'
He went on to say that the foreign policy is continuation of domestic policy and a desirable foreign policy cannot be achieved without a clear policy in the internal domain, noting the speed and unpredictability are two of the transiting conditions of the world today.
The spokesman for Iranian foreign ministry said, 'With our nuclear agreement, we came to an understanding called JCPOA which played a major role for the Islamic Republic of Iran in regional and global equations, but the trend of developments in the region and the emergence of Trump and an avarice and one-sided nature, eventually forced the US to exit from nuclear agreement and restore the sanctions.'
Qasemi pointed out that negotiations are underway with the European Union for meeting Iran's economic interests from the JCPOA, saying, 'It is thought that we can develop solutions in the short term, but that these solutions have not yet been completed for different reasons, including the complexities of decision - making within the European Union. Of course, the American pressure on Europe was very heavy and tried the mechanism not to take shape.