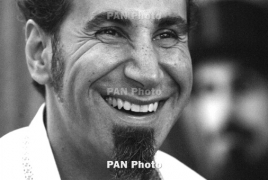 December 10, 2018 - 11:27 AMT
PanARMENIAN.Net - System Of A Down frontman Serj Tankian has lauded the snap parliamentary elections held in Armenia on Sunday, December 9, describing the day as a "momentous occasion in Armenian history."
My Step alliance led by Armenia's acting Prime Minister Nikol Pashinyan has secured a convincing victory in Sunday's snap parliamentary election, with 70.43% of all the ballots cast in their favor.
"The people of Armenia have made their voice heard loud and clear so much so that the previous ruling parties (the RPA and ARF in Armenia) couldn't even garner the 5% threshold to enter Parliament! This will give acting PM Pashinyan the mandate to follow through with further reforms and pursue programs to create much needed economic development within the country," the artist said in a Facebook post.
"Entities, previously protected by the state, who have been involved in flagrant corruption and injustices enacted upon citizens of Armenia for years will be brought to justice or pay their dues."
According to Tankian, the Armenian diaspora can no longer be "a distant viewer" waiting to see what will happen.
"It happened. It's time to participate in the enrichment of our homeland," he said.
"This is truly a momentous occasion in Armenian history and a victory we should cherish."
On Sunday, Tankian and former lawmaker Armen Ashotyan from the Republican Party of Armenia traded verbal blows, as the former described the former ruling authorities as a "corrosive, unjust, corrupt regime."