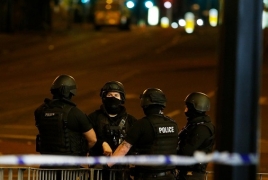 December 14, 2018 - 12:57 AMT
PanARMENIAN.Net - The man suspected of killing at least three people and wounding 13 others at Strasbourg's famed Christmas market has been killed by French police, following a shoot-out not far from the scene of Tuesday, December 11's attack, CNN says.
Cherif Chekatt, 29, was shot dead on Thursday evening, two days after he first disappeared sparking a massive manhunt involving hundreds of police officers, soldiers and anti-terror specialists from three European countries.
French Interior Minister Christophe Castaner said police recognized a man who looked like Chekatt walking on the street in Strasbourg's Neudorf district on Thursday night and approached him. He opened fire on officers when they tried to question him, he said.
Police returned fire, killing the suspect, Castaner said.
"As I am speaking to you, I am thinking about the victims and the wounded. I am thinking of those close to them. I am thinking of Strasbourg and France that was hit by this terrible attack," Castaner said.
On Thursday, Strasbourg police said the death toll from the attack had risen to three, after one person succumbed to their injuries. Five people remain in serious condition with eight others suffering light injures.
The hunt prompted a curfew in the eastern French city near the German border and forced the country to raise its national security threat level to its highest status: "emergency terror attack."
French prosecutors said the suspect shouted the Arabic phrase "Allahu Akbar," meaning "God is greatest," at the time of the attack.