December 27, 2018 - 17:51 AMT
PanARMENIAN.Net - Special New Year initiatives from Coca-Cola have already become traditional both around the globe and in Armenia. They help fill our busy pre-holiday routine with joy and festive mood. This year you all have a special chance to join in and contribute to this very important mission. The need for more people to reach out and do good, like Santa, is the essence of Coca-Cola's 2018 Christmas campaign, which invites everyone to truly live the spirit of Christmas with its #BeSanta message.
"Our #BeSanta campaign represents the true essence of Christmas and the whole holiday season. At the same time, it fully reflects one of the main values of Coca-Cola - that is to unite and bring people together in the best possible way. We are very happy to see the positive reaction this campaign sparkled in the community and the active participation we have seen on our social network channels and during the event", said Timur Seitkuzhin, Marketing Director of Coca-Cola Hellenic Armenia.
On December 26 during a special event held at a shopping mall in Yerevan, 25 participants took time off from their busy evening to join Santa in his mission and deliver gifts prepared by the company. A huge box filled with presents was waiting for more than a week to be unwrapped. After receiving a gift, each participant in turn became a Santa, heading to search for the next lucky one. Festive music and Coca-Cola giveaway made the evening even more special for the participants and visitors alike.
"#BeSanta is not only about giving presents on the New Year's eve. From "Meet a friend you haven't seen for ages "to "Give your mom an unexpected call", Coca-Cola encourages daily heart-warming actions that spread smiles and unite people, one small act of kindness at a time" added Timur Seitkuzhin.
During the month of December, visitors of Coca-Cola Facebook page have the chance to follow #BeSanta daily missions - sharing joy, smiles and good mood with their friends, family as well as strangers on the street.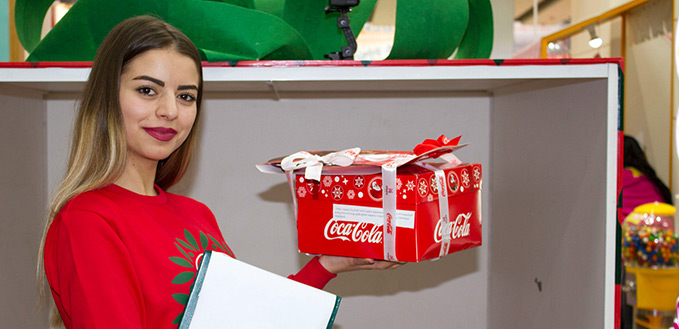 Another initiative that has made the holiday season even more special is the world-famous Coca-Cola Christmas Caravan. Over 18 years the iconic Caravan circles the towns around the globe bringing the holiday spirit right to our doors. This year it has even for the first time visited the Arctic Circle - the official home of Santa Claus.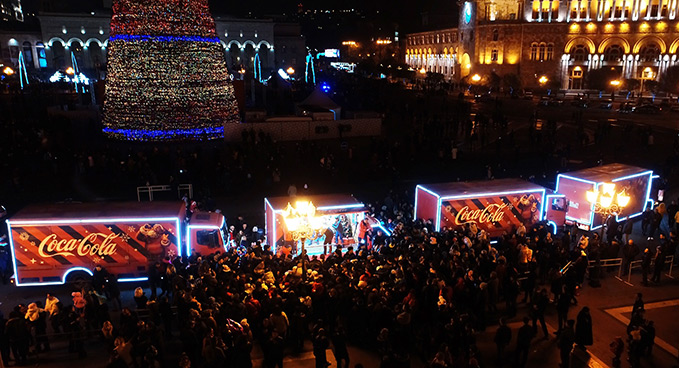 Residents of Yerevan and the regions are also well familiar with the colorful truck tour. For more than a decade, every December Coca-Cola Caravan launches in Yerevan, then heading to visit over 30 towns, spreading festive mood and tasty gifts. After touring the whole country this time, Coca-Cola Caravan will make its final stop at the Republic Square on January 13.