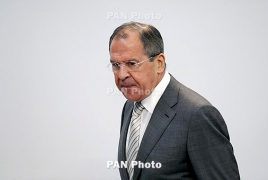 January 16, 2019 - 15:59 AMT
PanARMENIAN.Net - Russian Foreign Minister Sergey Lavrov hopes that the issue of the return from Azerbaijan of Marat Ueldanov-Galustyan, a Russian citizen of Armenian descent, will be resolved through dialogue.
Ueldanov was detained in summer 2016. Russian Embassy in Baku asked Ueldanov's relatives back then to "be understanding" as "his Armenian origin makes it extremely difficult to protect him" in Azerbaijan.
The Russian citizen works at the Austrian company Do & Co and was in Baku on a business trip. In baku, he is accused of illegal acquisition, production, storage and distribution of drugs on a large scale.
During a press conference on the results of 2018, Lavrov said issues that concern Russian citizens who find themselves in a difficult situation in other states, including the CIS countries, are in the Foreign Ministry's center of attention.
"I assure you that this particular topic was weighed in on during the recent negotiations with our Azerbaijani colleagues," Lavrov was quoted as saying by TASS.
"I hope we will be able to find a solution through dialogue and make decisions based on legal norms in order to return this person to Russia."