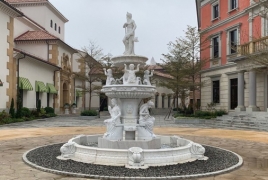 January 16, 2019 - 18:01 AMT
PanARMENIAN.Net - Chinese technology giant Huawei is building a brand new campus designed to look like different places in Europe, CNBC reports.
CNBC had a tour of the nine square kilometer site, which can house up to 25,000 employees.
The campus is split into "towns," which are areas where employees work. Each town is named after a European city.
There is Granada, a city in the south of Spain.
Other towns include Paris in France, Verona in Italy,and Bruges in Belgium. The campus is still being built. So far eight of the total 12 towns have been built.
The campus is located in an area of southern China called Dongguan. It is north of Shenzhen, the location of Huawei's current headquarters.
Currently, 17,000 employees are located on the campus. There are over 50,000 employees at Huawei's Shenzhen headquarters. Huawei's Dongguan campus is so big that a tram operates to transport employees between different towns.