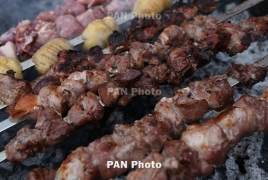 January 21, 2019 - 17:24 AMT
PanARMENIAN.Net - Armenia and Georgia are packed with majestic landscapes from volcanoes and canyons to the snow-kissed peaks of the Caucasus Mountains, with picturesque villages punctuating the spaces between. The long history of the region is both complicated and inspiring, and their rich culinary heritage helps unravel the tales, foodie travel writer Brandon Schultz says in a Forbes article about the cuisine of the two countries.
"Famous for flavorful spices complementing fresh ingredients, the traditional dishes of Georgia and Armenia are the perfect entrée into the culture of this undersung region, and an immersive culinary tour may be your best option for exploring new territory in delicious style," Schultz says.
The article draws special attention to the Armenian-style barbecue, as it is "big business" in the country.
"They're spiced and skewered meats, often pork, barbecued on a grill and served at family gatherings. Feast on khorovats at a quaint Armenian restaurant to experience this most traditional of local fare," the author recommends.
Schultz also says that imbibing Armenian alcohol, specifically the famous brandy is a must.
The publication then goes on to recommend Adjarian-style khachapuri (cheese bread), wine and chakhokhbili (chicken stew) in Georgia.