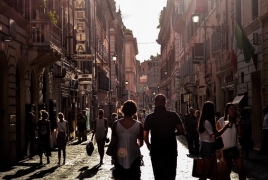 February 1, 2019 - 12:36 AMT
PanARMENIAN.Net - New research published by the Center for Disease Control in Atlanta, Georgia shows short people are angrier and more violent than tall people, KGBT reports.
About 600 men between the ages of 18 and 50 were quizzed on their prevention of male gender, self-image and behavior in relation to drugs, violence and crime.
Scientists discovered that men who feel the least masculine are three times more likely to commit violent assaults with a weapon or assaults that lead to an injury.
This is called "male discrepancy stress" or as Oxford University claims "Short Man Syndrome."
The university says a short person's height can increase feelings of vulnerability and raise feelings of paranoia.