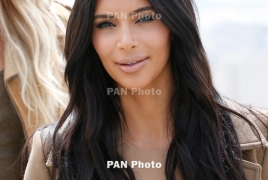 February 7, 2019 - 13:50 AMT
PanARMENIAN.Net - Reality TV star Kim Kardashian West will write the forward to the forthcoming Alice Marie Johnson memoir "After Life: My Journey from Incarceration to Freedom" (HarperCollins, May 21), Forbes reports.
The Keeping Up with the Kardashians star, who was instrumental in getting President Donald Trump to commute Johnson's sentence for a nonviolent drug trafficking offense, shared Johnson's Tweet about the news with three red hearts. HarperCollins acquired North American rights to the memoir, while life rights and film/television rights were sold to Endeavor Content and One Community. Johnson, 63, of Memphis, was sentenced in 1996 on five counts of drug trafficking and one count of money laundering, her first offense. She served 21 years in jail before President Trump granted her clemency in 2018.
In a statement, Kardashian West, who has Armenian roots, said, "My life has forever changed because of Alice Marie Johnson. Her story is a gift that will now reach so many millions more through her book and film. I hope Alice's case is just the beginning of a movement to help those left behind. I am invested in continuing to support Alice and this cause."
Johnson attended Tuesday night's State of the Union address as a guest of President Donald Trump, and wiped away her tears as she received a standing ovation when he spoke about her struggles. "Alice's story underscores the disparities and unfairness that can exist in criminal sentencing — and the need to remedy this total injustice," Trump said. "Alice, thank you for reminding us that we always have the power to shape our own destiny."
Johnson told TMZ Live that hearing the crowd's applause was "incredible." She noted that at this time last year, she was in federal prison. "I tried to press my back into the seat to try to keep a stoic face, but it just wasn't working." Johnson revealed that Kim Kardashian West stays in regular touch with her, and said, "Kim is an angel to me." She also said she wants to get back into playwriting once the memoir and movie are completed.
The 304-page memoir, written with Nancy French, will feature 16 pages of color photographs. The publisher's description reads, in part, "In this honest, faith-driven memoir, Alice explains how she held on to hope and gave it to others, from becoming a playwright to mentoring her fellow prisoners. She reveals how Christianity and her unshakeable belief in God helped her persevere and inspired her to share her faith in a video that would go viral—and come to the attention of celebrities who were moved to action."