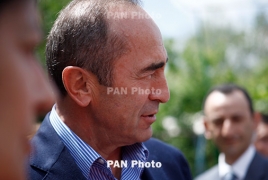 February 13, 2019 - 11:55 AMT
PanARMENIAN.Net - The Special Investigative Service of Armenia on Tuesday, February 12 brought new charges against second President Robert Kocharyan.
According to Kocharyan's team of lawyers, besides article 300.1 of the Armenian Criminal Code (overthrow of the constitutional order), the ex-president is also charged under paragraph 2 of part 4 of article 311 of the Criminal Code (receiving a bribe in especially large amounts).
The new accusation is connected with the statement of citizen Silva Hambardzumyan about giving the alleged bribe.
Robert Kocharyan has been in custody since December 7.
Kocharyan, who was the President of Armenia in 1998–2008, is accused of overthrowing the constitutional order and money laundering. The first case is related to the crackdown on peaceful protests against the results of the presidential election in March 2008. At the time, ten people were killed in clashes between protesters and the police, about 200 were injured. At the end of August, the court released Kocharyan on bail.