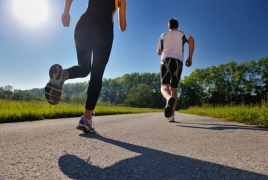 April 18, 2019 - 11:10 AMT
PanARMENIAN.Net - Americans have a much shorter life expectancy compared to almost all other high-income countries, according to the CDC's National Center for Health Statistics .
Recent data reveals that people in the U.S. can expect to live an average of 78.7 years. That puts Americans well behind the Organisation for Economic Cooperation and Development 's (OECD) average life expectancy of 80.3 years. (The OECD includes a group of developed countries like Canada, Germany, Mexico, Japan and France.)
Luckily, a 2018 study from Harvard University's T.H. Chan School of Public Health found five habits that could prolong a person's life by up to a decade or more. For the study, researchers reviewed 34 years' worth of data from 78,000 women and 27 years' worth from more than 44,000 men, Yahoo News reports.
The results showed a correlation between healthy behaviors and cardiovascular issues: Women and men who maintained the healthiest lifestyles were 82% less likely to die from cardiovascular disease and 65% less likely to die from cancer when compared to those with the least healthiest lifestyles over the course of the roughly 30-year study period.
The study suggested that maintaining these five habits could add up to 10 years or more to a person's life:
1. Maintain a healthy diet
A recent study published in the British journal The Lancet found that poor diets leads to one in five deaths. It can also lead to problems like high blood pressure and diabetes. A good diet, according to the researchers , contains minimally processed, whole foods and grains, vegetables, fruits, nuts and any natural source of protein (i.e., fish and beans).
2. Exercise daily
A study from the National Cancer Institute (NCI) found that just small amounts of daily exercise can extend life expectancy by as much as 4.5 years. The main idea is to avoid inactivity, which can be a common problem for those who have desk jobs. A few solutions: Get a standing desk, take walking meetings or dedicate 30 minutes of gym time before or after work.
3. Keep a healthy weight
According to the Harvard study, "weight control significantly reduced the risk of diabetes mellitus, cardiovascular risk factors and breast cancer."
A "healthy" weight varies from person to person, but the National Heart, Lung and Blood Institute (NHLBI) indicates that a BMI between 18.5 and 24.9 is considered healthy. (You can calculate yours here .)
4. Limit your alcohol intake
It's hard to escape the sight of alcohol. It shows up at happy hour, conferences, social outings and so much more. To get through long days, some may even rely on alcohol as a stimulant in social settings. But there are many downsides. For starters, it can add to your waistline and increase the risk of several cancers (i.e., breast, colon, esophagus).
While it can be difficult to moderate your alcohol intake — especially if you're the one in eight Americans who struggles with alcohol addiction — keep in mind that the U.S. government's "Dietary Guidelines" publication defines "moderate drinking" as one drink for women per day and two for men. (Note: One alcoholic drink-equivalent is defined as containing 14 grams (0.6 fl oz) of pure alcohol.)
5. Don't smoke
It's been decades since the tobacco industry started losing favor with the American public. As the health risks of smoking have become increasingly apparent, there's been more effort in warning people about the dangerous side effects.
That doesn't mean it'll be easy to kick the habit, but it's possible if you put in effort and truly commit. Former president Barack Obama was one successful leader who quit smoking through Nicorette gum. He gave up the habit while still in office and claimed to be "tobacco free" in 2017 .