You have been a part of Coca-Cola Hellenic family for quite some time now, more than 18 years to be exact. How does it feel to be appointed the General Director of Coca-Cola Hellenic Armenia?
I have mixed feelings about that. Being the director of such a company is a great honor, of course, but also a huge responsibility. The company has achieved great success throughout its activity in Armenia, having gained a stable market position, a good reputation, and setting the bar quite high in general. My mission as a company leader is not only to maintain our position in different fields, but also to raise the bar and achieve greater success.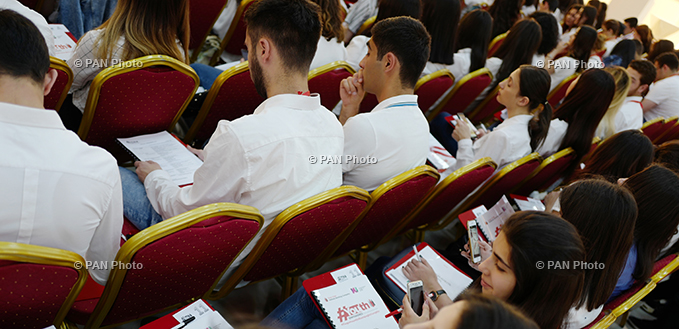 What motivated you to join the company and start a career here in the first place? What makes Coca-Cola Hellenic Armenia stand out among other employers?
Working in the Coca-Cola System enables you to constantly learn and grow. They say 'Give a man a fish, and you feed him for a day. Teach a man to fish, and you feed him for a lifetime.' But anyone who learns to learn, will find any food, not just fish. Coca-Cola Hellenic Armenia is the kind of company where one learns to learn. I believe this is one of the most important values the company has.
In April of this year, an independent study of the company's social, economic and environmental impact in Armenia was published. In your opinion what are the two indicators revealed in the study that reflect best the importance of CCHBCA for the country's economy and why?
One of the most important results the study has yielded is the company's creation of gross value added, which highlights the role of Coca-Cola Hellenic Armenia in the development of the country's economy. In just 3 years Coca-Cola Hellenic Armenia's total GVA contribution has amounted to AMD 29.5 billion, including indirect and induced effects. Thanks to the extensive value chain the company has created, every single dram we invest multiplies and generates income across the country.
Creation of jobs, I think, is another key economic indicator. According to the study, each direct employment opportunity created by the company in 2017 generated 5.5 additional jobs (indirect and induced). As a result, our company helped create more than 2300 full-time jobs in 2017 alone.
Coca-Cola Hellenic Armenia has been very active in the field of CSR. According to the study, the company invested more than AMD 112.4 million in social economic projects in the period of 2015-2017. How much has Coca-Cola Hellenic Armenia invested since then and why do you think CSR is important for the development of the company?
Throughout its activity in Armenia, the company has been involved in more and more CSR projects, having invested AMD 107 million in 2018-2019. But we do not limit ourselves to increasing the amount of investments. By analyzing the process and results of each project we implement, we are able to make the next ones more efficient, so that each new investment creates bigger value.

Over the past years, The Coca-Cola Company has been constantly extending its portfolio, presenting more choices for consumers. This is also true for our market. What is the reason for such a diversification and how does it affect the competition on the market and the consumer experience in general?
The world around us is very dynamic today and is changing with incredible speed. It used to take years for any change to happen, now it's only a matter of days.
People's needs, habits, and preferences are also changing: they are becoming more demanding and meticulous, looking for diversity, new experiences. Society is starting to embrace individuality, people begin to accept and be proud of their characteristics.
Of course, our company takes these market developments into account and offers consumers an even greater choice, in line with their preferences and lifestyles. When planning the portfolio, drinks that are in-demand on different days and at different times of the day are also taken into account.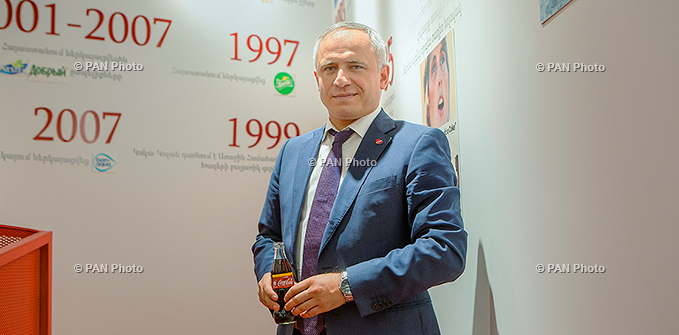 Over the two decades of its activity, Coca-Cola Hellenic Armenia served as a unique platform for professional development of its team of specialists, exposing them to the international working culture and the high class expertise of the Hellenic Group. What do you value in your employees and what advice would you give to the young professionals who are just at the start of their carriers?
Our staff have always been our greatest value. Only by having the best professionals and employees who love what they do and the company they work for can a business move forward and grow. We equally prioritize both a person's value system, and their ability and desire to learn and develop. When hiring, we often emphasize the soft skills of applicants even more than their professional skills because the latter are easier to develop.
We believe that every member of our Hellenic team is a talent aspiring to create value while improving their own skills and fulfilling their potential. We nurture our people to grow, learn and deliver. We are a company where highly engaged people are empowered to make decisions, take smart risks, prioritize progress over perfection, and be agile. To those new to the job market I would advise to be courageous and never be afraid of challenges, as we often learn more from our mistakes. Believing in our strength and hard work are of great importance too.
After all, as one of the most inspiring individuals in history, Nelson Mandela, used to say: "I never lose. I either win or learn."