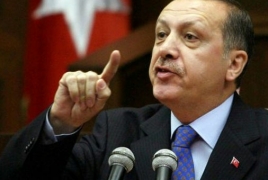 April 25, 2015 - 18:24 AMT
PanARMENIAN.Net
-
The ceremonial part of the events commemorating the 100th anniversary of Gallipoli Campaign was highly criticized by media: the Turkish side made a number of mistakes and slips, armeniangenocide100.org reports.
During the ceremonies four warships, including those of Britain, France, Australia and New Zealand, approached the Dardanelles Strait, where the Turkish presidential yacht MV Savarona greeted them instead of the Ottoman artillery.
Another episode did not skip the attention of the media too. While a short movie about the century-old battle was being screened, [Turkish president Recep Tayyip] Erdogan's recording of a patriotic poem was turned on. The verse had a religious Islamist content, whereas soldiers practicing other religions participated in the battle too.
Choosing April 24 as the day of holding the ceremonies brought about multiple problems. The events were previously held on March 18 in Turkey and on April 25 in Australia and New Zealand, making it possible for the allies' ships to reach their native shores on time.
The ceremony angered even Turkish opposition nationalists.
Republican People's Party general secretary Gürsel Tekin criticized the authorities for not having invited the opposition parties. "After torturing those alive, the ruling Justice and Development Party (AKP) now mistreats our victims. Everyone but Ataturk's party participated in the ceremony," Tekin said, according to Hurriyet.
Nationalist Movement Party deputy chairman Yusuf Halacoglu noted that not a single opposition party was invited and added: "They played and danced to their own music."