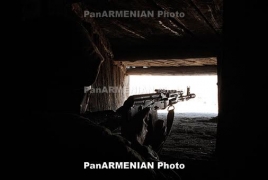 September 26, 2015 - 10:48 AMT
PanARMENIAN.Net - European politicians expressed their shock over recent Azeri attacks resulting in a number of losses on Armenian side.
A member of the European Friends of Armenia Advisory Council, French MEP Michèle Rivasi stated: "I am scandalized by this violence. We know of the historical enmity which exists between Azerbaijan and Nagorno Karabakh, but this time it directly concerns Armenia. It is unacceptable. The European Commission has to denounce the acts of Azerbaijan and also to sanction them. This is not only a matter between Armenia and Azerbaijan. European and international institutions have to denounce these acts."
Also condemning Azerbaijan's latest acts of aggression is French MP, Francois Rochebloine.
"War is unacceptable as such, let alone opening fire on civilians. Shooting of soldiers has to be condemned too," Rochebloine noted. "I am not surprised, on the other hand, as Azerbaijan has intensified ceasefire violations along the line of contact with Nagorno Karabakh.
"I have just returned from Karabakh. I haven't been on the frontline this time but I was there in May. I have heard bullets flying by: Azerbaijan opens fires every day using various caliber weapons. Soldiers and civilians have recently been killed, which is entirely unacceptable," the MP said.
"I call upon France, its government and its ministry of foreign affairs to intervene and put pressure on the foreign ministry of Azerbaijan to make sure these unacceptable acts cease," Rochebloine stated.
Former President of the European Parliament, Polish MEP Jerzy Buzek commented on the incident's repercussions for the peace process, saying that "Azerbaijan's attack on its sovereign neighbour Armenia is even more disturbing that it happens on the eve of another effort by the OSCE Minsk Group, mediating the peace negotiations between the two countries regarding the Nagorno Karabakh conflict."
Foreign Affairs coordinator of the EFDD group in the EP, Italian MEP Fabio Massimo Castaldo, said: "Recently we have had a strong resolution to sanction the non-respect of Human Rights in Azerbaijan and undoubtedly this resolution unleashed a strong reaction from the government of Azerbaijan. I hope that this time the European institutions are willing to condemn, without any reservations the sad events that we have seen today, the death of three Armenian women."
Member of the European Parliament Angel Dzhambazki condemns Azerbaijan's aggression against Armenia.
"I believe the Nagorno Karabakh land belongs to Armenians," Dzhambazki said. "I want to see European institutions take measures to defend human rights and support Armenia's independence and democracy. Terrorism is being perpetrated against the government and the people of Armenia, which the European Commission must not turn a blind eye to."