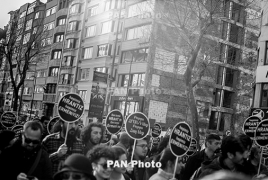 November 17, 2015 - 17:39 AMT
PanARMENIAN.Net - The murderer of the Armenian journalist, Agos editor-in-chief Hrant Dink has appealed to the court, seeking to give a new testimony, Hurriyet Daily News reports.
Ogün Samast has also asked for a transfer to a prison in Istanbul.
Since he was sentenced by a juvenile court to 22 years in jail in July 2011, Samast has not attended hearings at the Istanbul 5th Heavy Penal Court.
Dink was one of the founders of the bilingual Turkish-Armenian Agos newspaper and was killed outside his office in Istanbul on January 19, 2007.
His murder sparked widespread protests and led to speculation about the involvement of far-right groups and claims of a cover-up.
Samast, who was aged 17 years at the time of the killing, claimed he killed Dink for "insulting Turkishness."
An earlier investigation showed that the prosecutors who worked on the case ignored serious allegations of the involvement of top police officers in the murder.
The prosecutors are accused of having ties with the Gülen Movement, a group whose widespread infiltration of the judiciary and police enabled them to influence cases or fabricate them for their own interests.