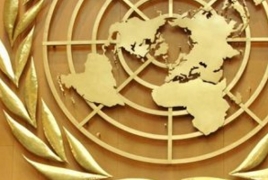 November 21, 2015 - 12:25 AMT
PanARMENIAN.Net - The UN Security Council unanimously approved a French-sponsored resolution Friday, November 20, calling on all nations to redouble and coordinate action to prevent further attacks by Islamic State terrorists and other extremist groups, the Associated Press reports.
The resolution says the Islamic State group "constitutes a global and unprecedented threat to international peace and security" and expresses the council's determination "to combat by all means this unprecedented threat."
The measure is the 14th terrorism-related resolution adopted by the UN's most powerful body since 1999.
The resolution "unequivocally condemns in the strongest terms" these and earlier "horrifying terrorist attacks" carried out by the Islamic State this year in Sousse, Tunisia and Ankara, Turkey, and calls for the perpetrators to be brought to justice.
"Today we sent a clear, unambiguous message that there will be no respite from our collective efforts to stop, suppress and destroy ISIL," Britain's UN Ambassador Matthew Rycroft, the current council president, said, using an acronym for the Islamic State group.
France's UN Ambassador called the resolution "historic" and said the government will "scale up its efforts so as to galvanize the international community as a whole to vanquish our shared enemy."
The resolution calls on UN member states "that have the capacity to do so to take all necessary measures" against the Islamic State group and all other violent extremist groups "to eradicate the safe haven they have established over significant parts of Iraq and Syria."
This does not constitute an authorization for military action, however, because the resolution is not drafted under Chapter 7 of the UN Charter which is the only way the United Nations can give a green light to the use of force.