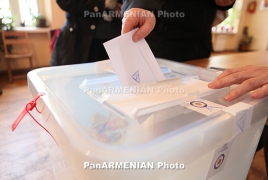 November 30, 2015 - 12:29 AMT
PanARMENIAN.Net - 6 international organizations will be monitoring the December 6 referendum on constitutional amendments in Armenia:
CIS observer mission – 44 representatives
CIS Interparliamentary Assembly – 23 representatives
Foreign Central Election Committees – 33 representatives
Parliamentary assembly of the Council of Europe (PACE) – 11 representatives
OSCE Office for Democratic Institutions and Human Rights (ODHIR) – 5 representatives
Representatives of foreign embassies accredited to Armenia
The most drastic constitutional change to be voted on December 6 change concerns the part of the Constitution that deals with the form of government. If approved, the amended version of the Constitution would increase the role of the National Assembly and essentially curtail the powers of the president. The prime minister would become the head of the executive and the government would be formed by the "stable" parliamentary majority formed as a result of legislative elections. The president would no longer be elected by popular vote and would serve only for one seven-year term (under the current system, the presidential term is five years). Most powers, however, would be concentrated in the hands of the prime minister and the majority party in the National Assembly. The opposition would be given wider supervisory powers and so-called "organic" laws that concern institutions would have to be passed by three-fifth of the number of lawmakers (compared to an absolute majority vote required under the current system). Other major changes also concern the formation of the judiciary that the authors and supporters of the constitutional changes insist would result in true independence of the judges at all levels.