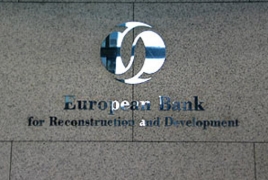 November 30, 2015 - 18:32 AMT
PanARMENIAN.Net - The European Bank for Reconstruction and Development (EBRD) has adopted a new strategy for Armenia to enhance the competitiveness of the private sector, improve the business environment, develop local capital markets and fund infrastructure development.
Armenia's economic growth has slowed down this year as a result of the broader regional downturn which affects the country in the form of reduced trade, remittances and investment flows. In addition, the depreciation of the Armenian dram and a decrease of foreign currency reserves have impacted the country's economy.
To speed up economic growth and support the government's ambitious reform program, which includes improving the business environment, the EBRD will focus on the following key priorities in its new strategy for Armenia:
• Enhancing private sector competitiveness: For Armenia's small and open economy, a significant improvement in competitiveness is key to attracting investment. The EBRD will continue financing the private sector. The Bank will target assistance for improvements to the regulatory and administrative environment and strengthen its assistance to micro, small and medium-sized enterprises.
• Developing capital markets and promoting local currency financing: As the authorities roll out mandatory pension reforms, the majority of pension fund investments will be channeled in local currency. Success will largely depend on the emergence of a healthy supply of capital market issues on the local market, and enough different investors to create market liquidity. The EBRD stands ready to support the development of the local capital market.
• Developing public utilities: Armenia's energy, transport and municipal infrastructure needs further improvement. Hence, it is important to increase private participation in public service provision. The Bank will support commercially viable energy and energy efficiency, transport and municipal service projects and engage in policy dialogue.
The EBRD is the largest single investor in Armenia. To date, the Bank has committed almost €950 million in over 140 projects in all major sectors of the economy.