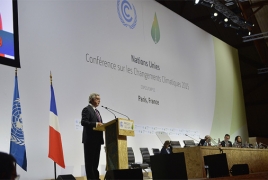 December 1, 2015 - 11:56 AMT
PanARMENIAN.Net - President Serzh Sargsyan participated Monday, November 30, in the Paris-hosted Conference of the Parties to the United Nations Framework Convention on Climate Change.
The Conference, presided over by France, is attended by the heads of state and government from 150 countries and thousands of other delegates.
Following the launch of the conference, the attendees held a moment of silence to commemorate the victims the November 13 terror attacks in Paris.
In their opening remarks, France President Francois Hollande, Foreign Minister Laurent Fabius, UN Secretary General Ban Ki-moon, Prince Charles of Great Britain and other speakers stressed the importance of the 21st Conference for the future of planet Earth and humanity. According to them, the Final Agreement of the Conference to be adopted on December 11 should focus on actions. In their statements, the world leaders should come up with clear-cut and strong political messages to ensure that the safe future of humanity has no alternative.
Addressing the dignitaries, Armenian President first expressed gratitude to his French counterpart for the excellent organization of the Conference and hospitality despite the terror attacks that shattered France and the entire civilized world.
Characterizing climate change as a global challenge, Sargsyan pointed it out as a threat to all states, regardless of their size or level of development. "Though Armenia's share in global emissions is not large and does not exceed two hundredth percent, Armenia attaches great importance to the need of combining efforts to tackle the issue, having committed itself to contributing to this global endeavor," Sargsyan noted.
"Armenia's stance was reflected in the "Plan of Actions defined at the National Level" adopted by our Government. It is built upon the following principles:
First, global emissions of the greenhouse gases shall be maximally limited, to keep the temperature hike below two degrees Celsius.
Second, we shall adopt an approach that is general but differentiated, taking into account the varying degree of the current and historical responsibility of the numerous countries.
Third, the responsibility and burden-sharing for limiting emissions of greenhouse gases shall be distributed in view of the rights of the contemporary and future generations to utilize the climate resources.
And four, we shall take no actions that would harm the developing countries," President Sargsyan noted.
Armenia stands ready to undertake a commitment of a quantitative limitation to the increase of greenhouse gas emissions, he said.
In conclusion, Sargsyan stressed that the challenge of climate change, as well as other current global threats are not limited to national borders or international law. According to him, a challenge that a country may face in the modern interdependent and globalizing world is, in a collective sense, a challenge to all of us. Solutions, therefore, shall be comprehensive, agreed upon, and coordinated, the Armenian leader said.