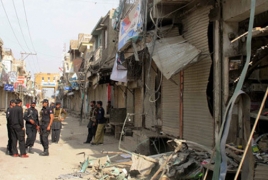 December 5, 2015 - 11:41 AMT
PanARMENIAN.Net - Several hundred Turkish soldiers have been deployed to provide "training" for Iraqi troops in an area near the northern Iraqi city of Mosul, which is under Islamic State control, a Turkish security source told Reuters on Friday, December 4, the news agency reports.
"Turkish soldiers have reached the Mosul Bashiqa region. They are there as part of routine training exercises. One battalion has crossed into the region," the source said, declining to say exactly how many soldiers had been deployed.
He said troops had already been in Iraqi Kurdistan and had moved to Mosul accompanied by armored vehicles, in a move which coalition countries targeting Islamic State were aware of.
The Iraqi government, however, has demanded that Ankara withdraw the more than 100 Turkish forces that entered Iraq with tanks and artillery for allegedly "training" of troops near Mosul. Baghdad stressed the unsanctioned move was a breach of its sovereignty, RT reports.
The Iraqi foreign ministry said in a statement early on Saturday that the Turkish troops were acting in violation of the country's sovereignty and demanded the forces withdraw immediately. "Around one regiment with tanks and artillery" has entered the northern Nineveh area, according to the statement from the Iraqi Prime Minister's media office.
According to the Reuters' sources, the U.S.-led anti-Islamic State coalition was aware of the Turkey's move.
However, according to two U.S. defense officials quoted by Reuters, Turkey's deployment is not part of the efforts of the U.S.-led coalition battling Islamic State.