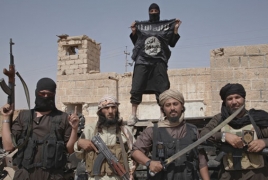 January 9, 2016 - 14:06 AMT
PanARMENIAN.Net - Technology giants appeared to be open to helping the U.S. government combat Islamic State during an extraordinary closed-door summit on Friday, January 8, that brought together America's most senior counter-terrorism officials with some of Silicon Valley's most powerful executives, the Guardian reports.
The remarkable rendezvous between Apple, Facebook, Twitter, Microsoft and others and a delegation from the White House revealed a willingness on the part of tech firms to work with the government, and indicated that the Obama administration appears to have concluded it can't combat terrorists online on its own.
Top officials – including National Security Agency director Michael Rogers, White House chief of staff Denis McDonough and FBI director James Comey – appeared to want to know how they could launch a social media campaign to discredit Isis, a person familiar with the conversation said.
A briefing document sent to tech executives Friday morning in advance of the meeting and shared with the Guardian laid out a wish list from the government delegation, which included America's most senior spy, director of national intelligence James Clapper.
"We are interested in exploring all options with you for how to deal with the growing threat of terrorists and other malicious actors using technology, including encrypted technology," the briefing document said. "Are there technologies that could make it harder for terrorists to use the internet to mobilize, facilitate, and operationalize?"