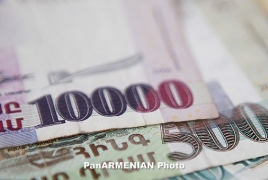 February 1, 2016 - 18:46 AMT
PanARMENIAN.Net - Private remittances from Russia and other countries to Armenia amounted to about $1 208 million in 2015, a reduction of 30.1% or $520 million compared to 2014, the Central Bank of Armenia said in a statement Monday, February 1.
Remittances from Armenia to foreign countries stood at about $317 million in 2015, down by 6,6% against those of 2014.
Net inflow of remittances to Armenia in the reporting period amounted to approximately $891,4 million, down by 35.8% remitted in 2014.
Remittances to Armenia, sent largely by Armenian labor migrants in Russia and some other countries have been dwindling for the second year in row.
The dramatic decline is blamed on the steep depreciation of the Russian ruble.
Still, the bulk of remittances – about 76% of the total private money transfers to Armenia -comes as usual from Russia.
Money transfers from Russia to Armenia in 2015 fell by 36.1% against 2014 to approximately $915.9 million, while remittances from Armenia to Russia increased by 0,6% to $204,5 million.