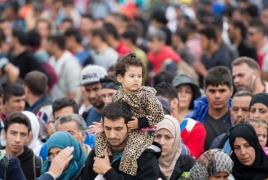 February 23, 2016 - 17:36 AMT
PanARMENIAN.Net - Border closures by European states alarmed by the migration crisis will cause "further chaos and confusion," the new head of the UN refugee agency warned on Tuesday, February 23, according to AFP.
"I am very worried about the news that we are getting about increasing closures of European borders along the Balkans route because that will create further chaos and confusion," UNHCR chief Filippo Grandi said during a visit to the Greek island of Lesbos.
Some 8,000 refugees and migrants have been trapped in Greece after Macedonia on Sunday barred passage to Afghans and introduced tougher document checks for Syrians and Iraqis.
This followed a decision by countries further up the migrant route to turn back groups of Afghans.
"It will increase the burden on Greece which is already shouldering a very big responsibility in managing these people and this is happening when we are not yet having alternatives," Grandi said after visiting the Lesbos migrant registration point, or hotspot.
He said take-up of an EU program to relocate some 160,000 people from Greece and Italy to other member states is "too small" and another scheme to directly resettle refugees from Turkey "has not started yet."
"So... to close the borders or to manage them tightly -- to put it that way -- in the absence of legal, safe alternatives for refugees will increase chaos and most likely will increase irregular movements that put people at risk," the Italian diplomat said, AFP reports.
More than 100,000 migrants and refugees have crossed the Mediterranean to Greece and Italy so far this year, and 413 have lost their lives trying, the International Organization for Migration said Tuesday.