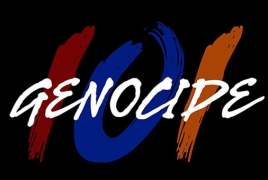 March 18, 2016 - 13:45 AMT
PanARMENIAN.Net - As the Armenian Diaspora and human rights activists from around the world prepare for the 101st Anniversary Commemoration of the Armenian Genocide, Angelenos will join community artists to raise awareness of genocide prevention and education through the "Genocide 101" concert, Asbarez reports.
"Genocide 101" is a social justice concert dedicated to raising awareness of the Armenian Genocide. For the past several years, socially conscious artists in the Los Angeles area have come together to work with the community through music, activism and commemoration. String Harmonies, Heibert, Kevork Artinian, the Greg Hosharian Trio, Armenian Public Radio, Alique and Krista of Green KARD will take the stage on April 24, 2016 at the Beyond the Stars Palace Theatre in Glendale.
Various community organizations, such as the Armenian Youth Federation – Western Region, Ferrahian Alumni Association and Armenian National Committee of America – Western Region will be working together for this event in coordination with the organizers for an exciting and energetic show.
This year, proceeds from the concert will be donated to two needy organizational projects. The Armenian Youth Federation's Youth Corps 6-week program provides a memorable and productive opportunity for youth to establish and strengthen ties with the homeland.
The concert will also provide funds to facilitate improvements to the Ferrahian school's campuses and programs, through the Ferrahian Alumni Association (FAA). The FAA's goal is to establish a social networking venue for alumni members and to provide a familiar atmosphere where alumni can enrich their lives by exploring and sharing common interests, exchanging ideas, and promoting awareness of the Armenian culture, language, heritage and society.