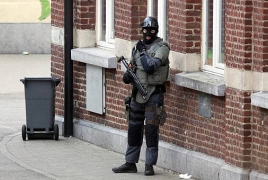 March 25, 2016 - 18:21 AMT
PanARMENIAN.Net - Belgian police carried out a major operation in Brussels on Friday, March 25, in connection with a foiled terror plot in France, police sources said, with media saying a man had been "neutralized" and reporting explosions, AFP reports.
A French police source said the raids in the Brussels suburb of Schaerbeek were related to the arrest of 34-year-old Reda Kriket in Paris on Thursday, who was found with heavy weapons and explosives in his apartment.
Police had completely sealed off the area in the Schaerbeek district, AFP says.
Schaerbeek is where police found a bomb factory after the Brussels airport and metro suicide attacks on Tuesday and from where the three airport attackers set off that morning.
Belgian public broadcaster RTBF reported that a man with a backpack had been "neutralised" after refusing to obey police orders but there was no immediate confirmation by officials.
Two explosions were heard during the operation and bomb disposal experts were on site, reports said, according to AFP.
The latest raid forced Belgian Prime Minister Charles Michel and Foreign Minister Didier Reynders to cancel a wreath-laying ceremony with visiting US Secretary of State John Kerry at the airport, an AFP reporter travelling with Kerry said.
During a series of raids in Schaerbeek on Tuesday night police found 15 kilos of high explosive, bomb-making chemicals and an Islamic State group flag.