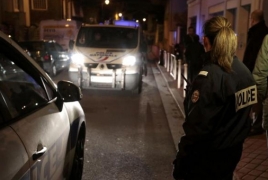 March 31, 2016 - 17:09 AMT
PanARMENIAN.Net - Paris attacks suspect Salah Abdeslam wants to cooperate with French authorities once he is extradited from Belgium, his lawyer said Thursday, March 31, as Belgian police carried out a raid linked to a foiled French terror plot, AFP reports.
The sole surviving suspect of the November 13 Paris attacks in which 130 people were killed, Salah Abdeslam was arrested in Brussels on March 18 after four months on the run.
"I can confirm that Salah Abdeslam wants to be handed over to the French authorities," lawyer Cedric Moisse told reporters at an extradition hearing in Brussels. "I can also confirm that he wants to cooperate with the French authorities."
A prosecutor was set to travel to the prison in the city of Bruges where Abdeslam is being held to discuss his extradition under a European arrest warrant.
Belgian federal prosecutors "do not object" to handing the suspect over to France, said spokesman Eric Van der Sypt. A judge is set to rule on the extradition by Friday at the latest.
Belgium has increasingly found itself at the centre of Europe's battle against terrorism and authorities have faced strong criticism for not doing enough to keep tabs on suspected extremists.