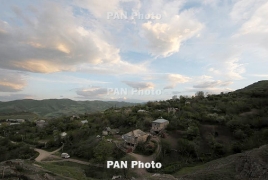 April 5, 2016 - 13:29 AMT
PanARMENIAN.Net - The Armenian soldier who was wounded in Azerbaijani shelling Monday, April 4, was transported to Yerevan, the chief of Berd hospital said.
"His condition is assessed as stable," Panorama.am cited the hospital chief as saying.
Another serviceman, Zori Ashrafyan had received a shrapnel wound in Armenia's Tavush province. Ashrafyan, however, turned out to have minor injuries, with no need to be hospitalized.
On the night of April 1-2, Azerbaijani armed forces initiated overt offensive operations in the southern, southeastern and northeastern directions of the line of contact with Nagorno Karabakh.
As many as 20 Karabakh servicemen were killed and 72 were wounded in the course of military operations. In addition, 4 civilians and 5 volunteers have been killed.
26 Karabakh soldiers have gone missing so far.
As of 10:00 p.m., April 5, the Azerbaijani side has lost 29 tanks and over 5 armored vehicles, including an IFV, as well as 1 TOS-1A Solntsepyok multiple rocket launcher, 1 BM-21 Grad multiple rocket launcher, 2 military helicopters and 7 unmanned aerial vehicles.
Seven Karabakh tanks have been neutralized since April 2. The Armenian side has lost eight positions (300 meters overall).