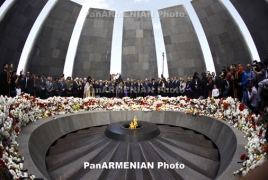 April 14, 2016 - 18:12 AMT
PanARMENIAN.Net - Turkey rejects a European Parliament progress report released on Thursday, April 14, Ankara's European Union Affairs Minister said, citing a reference in the report to the Armenian Genocide of 1915, Reuters reports.
"Unfortunately this year... the same reference takes place in the European Parliament's Turkey report. These expressions, despite all our efforts and our warnings, could not be dropped," Volkan Bozkir told reporters at a news conference in Austria, when asked about the report's reference to genocide.
"That's why we will consider this report as null and void and our permanent representative will send it back to the European Parliament."
In 2014 as well as, Turkey rejected the progress report on EU membership compiled by the European Parliament.
Definition of the mass killings of Armenians in 1915 as genocide was again among the key sticking points for the Turkish government.
The country's EU Minister Volkan Bozkir said then that Ankara will return the report without opening it.