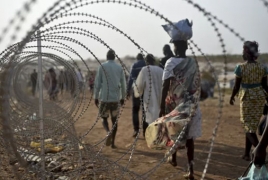 April 18, 2016 - 12:53 AMT
PanARMENIAN.Net - The death toll from a raid carried out by South Sudanese gunmen in western Ethiopia has risen to 208 people, an Ethiopian government spokesman said, adding that the attackers kidnapped 108 children, Al Jazeera reported Monday, April 18.
By Sunday afternoon, the number had risen to "208 dead and 75 people wounded" from a figure of 140 a day earlier, government spokesman Getachew Reda told the Reuters news agency on Sunday.
He said that the assailants had also taken 2,000 head of livestock. Women and children are among those killed, he added.
"Ethiopian Defense Forces are taking measures. They are closing in on the attackers," Getachew said, according to Al Jazeera.
The attack happened on Friday in the Horn of Africa nation's Gambela region which, alongside a neighboring province, hosts more than 284,000 South Sudanese refugees who have fled a conflict in that country.
Getachew earlier told Al Jazeera that Ethiopian forces had killed 60 of the attackers.
Cross-border cattle raids have happened in the same area in the past, often involving Murle tribesmen from South Sudan's Jonglei and Upper Nile regions - areas awash with weapons that share borders with Ethiopia.